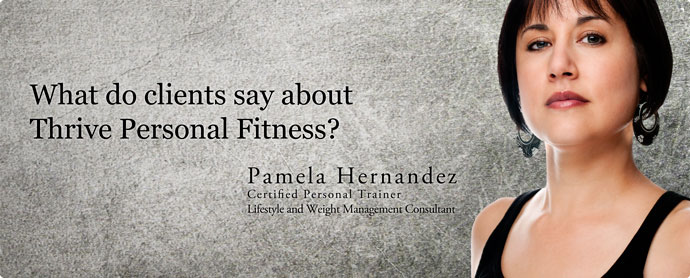 Pamela has encouraged and helped me to see the "big picture" with my health and fitness goals, all while appreciating that success takes place one step at a time.
-Paulette
Anyone can walk into a gym and workout but they don't get the road map that (Pamela) provides her clients with for their own personal fitness journey.
– Vickie Shaffer, Lampe MO
I retained Thrive Personal Fitness to give me a workout plan that I could use at home and at the gym. Pamela fully delivered and tweaked a program for me that catered to my busy lifestyle.
She gave me the confidence to add a weight program and I saw immediate results. Not only did she save me the expense of retaining a nutritionist, she also helped me fit back into a pair of jeans that I had before I had children.
-Mary
(Pamela) is wonderful, willing to listen to your individual needs (because we are all different) and makes a plan that is customized to individual goals.
– Rebecca Darrow, Springfield MO
For those of you who know Pamela, you will agree with what I am about to say. …I thought, what have I got to loose. I'll hire her for a month. If I don't see any results I just won't hire her for the next month. That was 7 months and 29 lbs ago…
From the very beginning she was positive even when I was yo-yoing. I was harder on myself than she was. I always give her the credit. She says, "You are doing the work. I am only giving you the tools."
Her method of resistance training is remarkable!!!
At first, I wasn't seeing any change in myself. Then I started to look closer when members of the gym were remarking at the weight I was losing.
-Goldie
This is a perfect blend of accountability and grace, which has helped me to be much more consistent and has given me a healthier understanding of my body, my limitations (sometimes you have to have an easy button and once piece of chocolate cake every now and again won't make or break your progress) and my abilities."
– Jenny Turner, Springfield MO