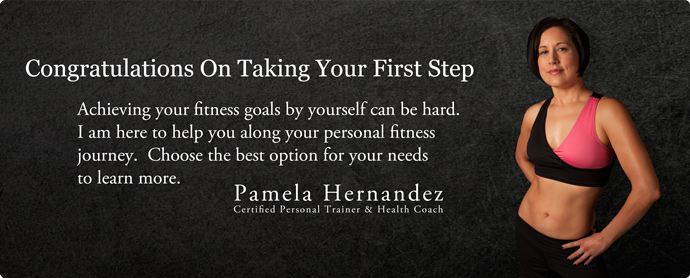 Congratulations!
Today is the day you have decided to create a healthier and happier you.
You're not looking for another 30 day fix or focused on your class reunion. This time the feeling is different. This time you are thinking more about how it's harder to get up off the floor than it used to be. It has nothing to do with a bikini and everything to do with simply being able to fit comfortably again into your favorite pair of jeans.
This time you are ready to build a fit life where you feel confident and strong, both inside and out. You are ready to build a healthy body to take you roaming the streets of London or hiking the trails in Sedona.
The problem is you are not sure how or who to trust for the answers.
Don't worry; you have come to the right place. You have picked the destination. Let me, Pamela Hernandez, be your personal trainer in Springfield, Missouri. Let me create the map to get you there. Let me be your fitness coach and guide on the journey to a happier and healthier life.
"Anyone can walk into a gym and workout but they don't get the road map that (Pamela) provides her clients with for their own personal fitness journey."
– Vickie Shaffer, Lampe MO
You've taken the first step. Now move forward on your journey by scheduling your complimentary consultation by clicking here. No need to pack your gym bag yet. The consultation is a chance for you to tour my semi-private personal training facility and for us to get to know each other over a cup of tea.
At the consultation, we will schedule your assessment appointments. Don't be nervous; there won't be a scale or a lot of sweat involved. The assessments are not pass or fail. The Functional Movement Screen is simply a tool to help me understand where you are and how your body moves. The appointments are a chance for me to understand where you are starting from and for us to get to know each other better.
Personal training is a PERSONAL relationship. This is our chance to make sure we make a good team. (Cost for the two private assessment sessions is $85 plus sales tax.)
"(Pamela) is wonderful, willing to listen to your individual needs (because we are all different) and makes a plan that is customized to individual goals."
– Rebecca Darrow, Springfield MO
Your personalized workouts take place in a small group environment with no more than two other people working out with you during your session. You'll start slowly, building up a foundation of the basics. My goal is for you to feel tired but energized when you leave a session, not crawling for the door. Most clients visit me 1-2 days per week so that means you'll have homework as well! Assignments are personalized to your schedule, the equipment you have available and your goals.
Working with me and being part of the Thrive Personal Fitness family isn't just about the workouts. You'll get help making new nutritional habits and learning how to eat for your life and your goals. However, there are no meal plans. I don't sell you meal replacement shakes and supplements. I help you learn how to make better choices eating real food and finding "easy button" solutions to tough eating situations. You'll also receive access to my private Facebook group, invitations to clients only special events like on-site cooking classes and lunch and learn meet ups and special members-only discounts and contests. As your coach I will never be more than an email or message away.
"This is a perfect blend of accountability and grace, which has helped me to be much more consistent and has given me a healthier understanding of my body, my limitations (sometimes you have to have an easy button and once piece of chocolate cake every now and again won't make or break your progress) and my abilities."
– Jenny Turner, Springfield MO
There will never be a perfect time to start your journey. You've made the decision. Your time is now. Invest in yourself today for a better tomorrow.
Programs start at $193 per month. More information about program pricing is available at the welcome visit.

Save
Save