85% of women opt out of important life events because they don't believe they look good enough.
Are you missing laughter in the lake or hiding at the pool because you don't think your body is worthy of being seen?
Do you avoid speaking up at meetings or going after the promotions and leadership opportunities you deserve because you don't want to be in the spotlight?
Being afraid is exhausting. Chasing ideals keeps you from chasing your dreams. All that work prevents you from living the healthy and happy life you deserve.
If you're tired of living life from the sidelines, I want you to join me for a unique women's wellness experience. Spend a weekend relaxing, recharging and learning to how to love your body again.
My next Refill Your Cup weekend is May 3-5, 2019 at Timber Creek Retreat House in Drexel, MO.
I have all new sessions designed to give you the tools you need to build a better relationship with your body and find your path to healthy striving goals. Here are the sessions I have planned for you during this restorative weekend:
The Comparison Trap (Part 1): How Media Is Messing With Your Mind
The Comparison Trap (Part 2): Silencing the Inner Critic and The Path to Practicing Self-love
The Dance Of Emotional Eating
Restore Your Core with Maria Savvenas: functional exercises to retrain your alignment, strengthen your glutes, and reflexively fire your core!
Plus you'll have time for reflection, meditation, sleeping and reading with a delicious cup of tea curated just for our weekend together. You'll spend a weekend unlike anything you've ever experienced with other women seeking overcome the culture of body shaming and redefining what it means to be fit and healthy.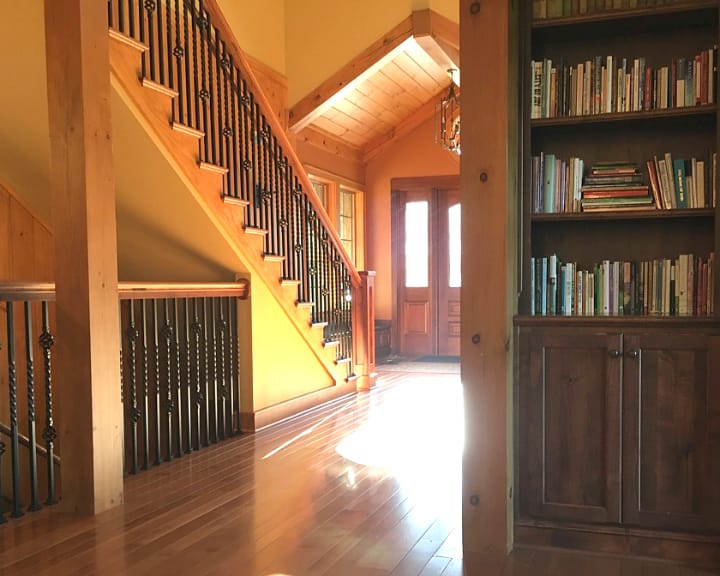 The Refill Your Cup Retreat weekend is hosted at Timber Creek Retreat House in Drexel, MO. The retreat experience includes:
Two nights at the cozy and comforting Timber Creek Retreat House ($190 per night single occupancy or $280 per night double occupancy)
Time to enjoy moving your body by visiting the hiking trails and a Saturday yoga class
Home cooked meals, snacks and beverages provided
All four sessions mentioned with materials and a special welcome gift for $249.
Are you ready for true transformation? Register now.
Perhaps you're like Laura, a two-time retreat attendee.
"Retreating" is not possible for me at home. If I'm home, I'm working—either for pay, for family, or working on my endless To Do list. Physically removing to another location allowed me to more fully relax, limited my "To Do" options, and created the space and time I needed to listen."
"The peace helped me know and accept something I had suspected for a long time. It was time for me to leave my place of employment even though I had nothing in the wings and found the prospect quite unnerving. Both retreats, however, laid the groundwork. Pamela's topics on self-care, daring to live with vulnerability, putting "the worst" into perspective, and authentic living spoke directly to my current life."

Why attend a retreat?
Good question! Here is what Julie said about her retreat experience last spring.
"I was feeling a need to totally escape the routine of my everyday life and just get away for a couple of days of relaxation and pampering which I might add was a totally new experience for me."
And how did it go for Julie?
"The setting is so beautiful and serene. The owners Tom and Beth are such hospitable people and make you feel at home from the moment you enter their beautiful and cozy get-away. The rooms make you want to stay forever and every meal was elegant yet delicious. Pamela informally led us in such enlightening discussions as we sat on comfy couches wrapped in afghans. We were given plenty of unscheduled time to take walks, read, nap, get a massage or just sit around with a cup of awesome tea (thanks Pamela!) and get acquainted with a new friend."
You are worthy. You are enough. You deserve a life open to all possibilites. It starts by throwing off their rules and learning how to love your body just as it is.  Register here to take the next step towards your happier and healthier future.

If you have any questions about accommodations or the retreat schedule before booking, please feel free to email me pamela@thrivepersonalfitness.com.
Save
Save
Save
Save
Save
Save
Save