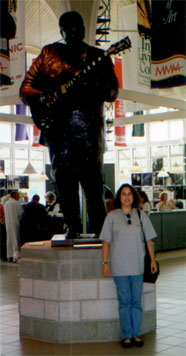 So this is me, circa 1997, in Memphis, TN.  At the time I knew the resemblance between me and B.B King was unflattering, but I lacked the confidence and knowledge to do anything about it. I continued on an unhappy unhealthy path for another 2 years.
In 1999, things finally started to click. I met someone who was a champion to my cause, not a roadblock. He helped me not only by sharing the knowledge he had, but by loving me as I was and supporting me in the changes I wanted to make.  I got a gym membership, a decent pair of trainers and a copy of "Weight Training for Dummies".
It was a great start, but it was just a start.  After the first year I had dropped around 20lbs from my 5'3" frame. That was the goal and I had achieved it, right? Well, actually, that was only the beginning. What I had learned was you couldn't revert back to the old habits without getting the old results. If was going stay lean and mean, I had to stay on the road that led me there.
So now instead of a "diet" I had a lifestyle.  It was up to me to support that lifestyle with small but lasting changes that worked with all the other responsibilities I had.  I had managed my transformation while working full time, as a banker, and going to school full time.  When school was done I wasn't quite sure what to do with all the "free time" and fitness helped to fill the void. I learned as much as I could on my own as well as studying for, and passing, my first CPT exam (ACE, which I no longer hold) in 2001. Even after passing the exam, I continued to learn by reading any books and magazines on exercise and nutrition I could get my hands on.
The journey continued. Each year that passed, I gained more knowledge and confidence.  Each year I became a little more educated and made smarter choices in what I ate and how I lived.  The great thing was I found that many of these changes added not just to my fitness level, but my overall quality of life. For example, I discovered I really love to cook! The farmer's market was now more important to me than sleeping in on Saturdays.  I also started to commute to work by bike rather than car, when the weather permitted.  I was amazed at how much more energy I had to start my day, even though the ride was only about 10 minutes.   Perhaps those things are what really made me a believer that while the time in the gym is important, how you spend the rest of your day matters just as much.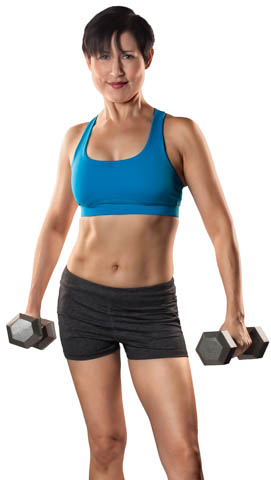 In early 2009, in the midst of unimaginable upheaval in my banking career, I started to take a good hard look at what mattered most to me.  I began to realize that health and fitness were my true passions and that is where my focus for the future should be.  I knew I could help people by sharing my knowledge and experiences, while at the same time pursuing a career that was more than just a paycheck.  I did some research on different CPT certifications. In honor of my 34th birthday I took and passed my ACSM exam in July 2009. Thrive Personal Fitness was born.
Here I am today.  I am happy, proud and ready to set out on a new adventure.  I have my champion still by my side and many life lessons behind to share.  Thanks for coming along for the ride!
Pamela Hernandez
ACSM CPT